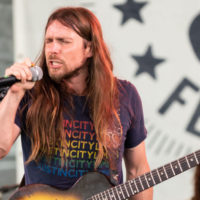 Willie Nelson's son Lukas Nelson has teamed up with Lainey Wilson on the new duet "More Than Friends," written by Nelson. "More Than Friends" arrives ahead of Nelson's upcoming album, Sticks and Stones, due out on July 14.  To pre-order, head here.
Said Lukas in a press release: "When I wrote 'More Than Friends,' I had always envisioned it as a duet. I am a big fan of Lainey, and she was at the top of my list of artists I wanted to sing with me on this track. When we sent her the song, I was thrilled to hear back that she loved it and wanted to do it."
Wilson adds: "'More Than Friends' is a modern-day take on the musical, kindred spirits of icons like Dolly Parton and Kenny Rogers. I'm so honored to be able to work with someone as talented as Lukas. His artistry and storytelling within music is unlike any other."
Check out the video for "More Than Friends" – here.
Editorial credit: Carl Beust / Shutterstock.com