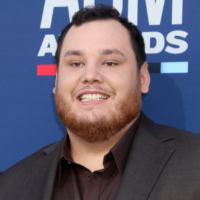 Luke Combs has revealed the title of his fourth studio album, 'Gettin' Old,' and its release date of March 24th. The country star shared the news on social media, adding that "Growin' Up And Gettin' Old" will drop on January 27th. The full track listing has yet to be unveiled.
Said Combs "This album is about the stage of life I'm in right now. One that I'm sure a lot of us are in, have been through, or will go through. It's about coming of age, loving where life is now but at the same time missing how it used to be, continuing to fall for the one you love and loving them no matter what, living in the moment but still wondering how much time you have left, family, friends, being thankful, and leaving a legacy. Me and so many others have poured their hearts and souls into this record and I hope you love it as much as we do."
It will be Combs' second album in less than year after releasing Growin' Up in June 2022, which marked his third major label studio release and debuted at No. 1 on the Billboard Top Country Albums chart.
Editorial credit: Kathy Hutchins / Shutterstock.com