Murphy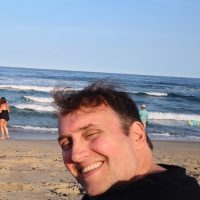 Murphy grew up in northeastern Pennsylvania, then after his parents divorced, a move to Montreal, Canada…where they speak french and yes, Murphy speaks fluent french, just hope he doesn't start speaking in the wrong language on-air!!
Before becoming the Afternoon Drive guy on K102, Murphy worked at both North Idaho's Rock 106.7 as well as 95.3 KPND and yes, had a previous stint 10 years back on K102 middays (anyone remember an obscure guy named P.J. Nash???).  He also spent some of his early working years doing media promotions for the World Wrestling Federation.
"Murph", is a father of four and loves spending time with his kids and beautiful wife Kristie.  Definitely a "summer guy", when not on-air, he loves spending his days on the water and home to BBQ or light up his fire pit.
Musically, Murphy is easy to please.  He loves the music of K102 Country, especially the older legends.  Very eclectic in taste, Murph loves all genres and his Spotify lists can include, Johnny Cash, Carrie Underwood, Luke Bryan, Bruce Springsteen, U2 and oddly enough, late 70's disco!!
A die-hard baseball and football fan who also digs The Walking Dead, Big Brother & This Is Us, say "hi" anytime, he's as easy going as Sunday morning!