Murphy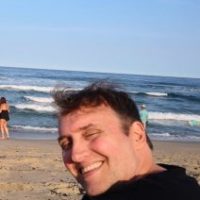 Murphy spent part of his childhood in northeastern Pennsylvania, then after his parents divorced, a move to Montreal, Canada…where they speak french and yes, he speaks fluent french, just hope he doesn't start speaking  the wrong language on the air!!
Before becoming the weekend guy on k102, he worked at North Idaho's Rock and also spent a few years doing media promotions for the World Wrestling Federation.
Murphy is a happily-married father of four and loves spending time with his kids.  Definitely a "summer guy", he loves spending his days on the water, home to BBQ and then off to work.
A die-hard baseball and football fan who also digs The Walking Dead, This Is Us and Family Guy, say "hi" anytime, he's as easy going as Sunday morning!
To contact murphy, email him at patmurphy@blueskybroadcasting.com.
On the air Weekdays  Saturday from 6a-8a and Sunday 2p-6p.
[episode id=306]