The Morning Stampede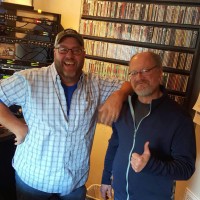 Derik Walker
I started my radio career 10 years ago, right here in the inland northwest on K102 country! In my opinion it's the best radio station in the market…the world…heck…the universe! (I really do love it!) I wake up each morning excited to go to work, ready to laugh and crank up some great country music.
I've been married for 25 years, have 2 great kids, both in college…which explains why I'm always broke! I love to ride…both snowboards and motorcycles. I've been all over this great country and there's no place that I'd rather be than right here! I love animals and they love me! Sometimes i even feel like Dr. Dolittle, like they actually understand what I'm saying to them!
Something you might not know about me…I can 2 step and swing, like a freaking monkey…and nobody can beat me at air hockey…unless I let them!
Click Here to email Derik
Jeff McLean
My radio career stretches way back to the 70's! I've worked all sides of this business from sales and promotions, to what I love most, being behind the microphone for the best radio station on the planet and beyond! I've been a proud member of the Blue Sky Broadcasting team since 2002 and have seen our success with out listeners grow by leaps and bounds during that time!
I've lived in north Idaho for the last 35 years and enjoy the people of the Inland Northwest and getting to meet them during live broadcast events (remotes), concerts, sporting events, parties, etc. This truly is the best place in the world to live, with the nicest people! If you happen to be an event where K102 is, please come up and introduce yourself, I'd love to meet you!
During my time away from K102 I enjoy staying active. Playing basketball, riding my bike, long walks and runs and just trying to keep the old ticker healthy! I'm a sports fanatic to the bone! I Love all sports and my teams! Seahawks, Mariners, Huskies, Zags, Vandals and Eagles. I hope some day we get the Sonics back!
Finally, a big personal thanks for those of you who choose K102 Radio as your favorite radio station. We know you have choices! Feel free to call the Morning Stampede any morning — we'd love to hear from you!
Click Here to email Jeff
[episode id=306]