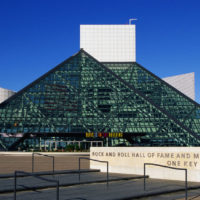 The Rock and Roll Hall of Fame has announced the nominees for its Class of 2023. The Rock Hall tweeted the list nominees along with the caption: "Congratulations to the #RockHall2023 Nominees. The Official Fan Vote is now open: http://rockfa.me/FANVOTE23"
Leading the list of 14 nominees are country legend Willie Nelson, alongside Sheryl Crow, Cyndi Lauper, George Michael, Missy Elliott, Iron Maiden, Rage Against the Machine, The White Stripes, Soundgarden, Kate Bush, Joy Division/New Order, The Spinners, A Tribe Called Quest, and Warren Zevon.  Nelson, Crow, Elliott, Joy Division/New Order, Lauper, Michael, and Zevon are first-time nominees.
Rock & Roll Hall of Fame Foundation chairman John Sykes said in a press release: "This remarkable list of nominees reflects the diverse artists and music that the Rock & Roll Hall of Fame honors and celebrates. These artists have created their own sounds that have impacted generations and influenced countless others that have followed in their footsteps."
Five artists will be selected by fan vote to be inducted into the Rock and Roll Hall of Fame this year. Fans can vote for their favorite artists online or at the Rock & Roll Hall of Fame Museum in Cleveland through April 28. This year's inductees will be announced in May, with the induction ceremony to take place in the fall.
Editorial credit: Joseph Sohm / Shutterstock.com