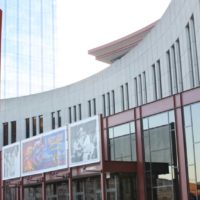 The Country Music Hall of Fame announced on Monday the latest round of recipients for induction into the hall of fame. The 2021 inductee roster includes The Judds, Ray Charles, Eddie Bayers, and Pete Drake.
CMA Chief Executive Officer Sarah Trahern said in a press statement: "The works of this year's inductees span crucial timestamps of country music history. This impressive career landmark is the pinnacle of accomplishment in country music and I'm so proud to see Eddie, Ray, Pete, Naomi, and Wynonna getting their much-deserved plaques on the wall of the rotunda. Today's fans and generations to come will forever be reminded of the distinct impact each made on this genre."
The announcement of this year's inductees on Monday morning came along with a ceremony featuring another icon of country music, Reba McEntire. The details of the official induction ceremony have yet to be announced. You can watch the announcement video – here.
Editorial credit: Eric Glenn / Shutterstock.com